From: Center for Cyber Safety and Education
Sent: Wednesday, April 4, 2018 11:52 AM
Cyber Safety Around the World
Volunteer Highlight
This month's volunteer highlight goes to Todd Davenport, a Certified Information Systems Security Professional and president of (ISC)² Middle Georgia Chapter. Todd, along with the rest of the Georgia chapter, have been championing the Center's efforts to Make the Cyber World a Safer Place for Everyone.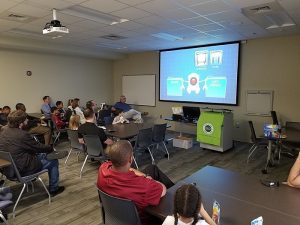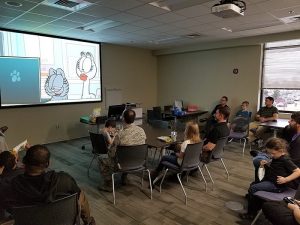 In less than a month, they facilitated a family workshop for the chapter members with Garfield's Cyber Safety Adventures lesson #1 on Privacy.
A family affair completed with popcorn, candy and Garfield's take-home activity packages. There was a total of 15 members, 3 adult guests and 13 children, a record attendance for the chapter's monthly meetings. Due to its success, Todd plans to provide this family outing annually.
In addition, during the chapter's 8th Technology Expo and Cyber Forum at the Museum of Aviation in Robins, GA, Todd facilitated a Safe and Secure parent presentation during the expo and provided information about the Center to approximately 300 attendees.
GET INVOLVED with The Center for Cyber Safety and Education !